Launch of EU-CardioRNA book 'Epigenetics in Cardiovascular Disease'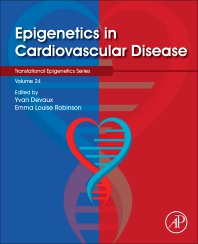 We are delighted to announce the launch of a new book: Epigenetics in Cardiovascular Disease, part of the Elsevier book series in Translational Epigenetics, expected to be released 1st March 2021.
Link for full contents and to order
Twenty-one illustrated chapters prepared by members of the EU-CardioRNA COST Action present the role of epigenetic mechanisms in cardiovascular disease, focusing on key aspects such as DNA methylation, histone modifications, noncoding and regulatory RNAs. Furthermore, authors discuss sex differences and the role of epigenetics in cardiac development and induced pluripotent stem cells. The potential of artificial intelligence and biomarkers based on epigenetic changes to aid in clinical decision making is also reviewed in this book.
Pre-order today with a 15 % discount! Please feel free to contact us for further information on the content and release.