Special Issue on behalf of EU-CardioRNA "Special issue on RNAs in diagnosis and treatment of cardiovascular diseases"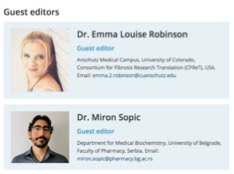 Cardiovascular disease (CVD) remains the biggest socio-economic burden and future threat to public health. This is largely due to an ageing population, along with increased prevalence of comorbidities and risk factors that include hypertension, type II diabetes and chronic kidney disease. There is an urgent, unmet need for new specific and effective diagnostic and prognostic indicators and therapeutic tools to treat CVD and its associated comorbidities.
RNA therapeutics is an exciting and emerging field in a number of complex disease areas. In 2018, the first RNA-based therapy was approved by the US Food and Drug Administration for cytomegalovirus retinitis. Currently, there are several RNA-based drugs in various stages of development that show promising potential for the treatment of various CVDs. Moreover, non-coding RNAs (ncRNAs) are detected in many bodily fluids, can be relatively resistant to degradation, and often reflect dynamical intracellular changes during disease progression; as such, they show potential as diagnostic and prognostic biomarkers for CVD.
In this special issue, we aim to feature articles addressing and presenting the latest advances in RNA research that emphasise the therapeutic and biomarker potential of ncRNAs in CVD. Authors are encouraged to submit novel primary research or review articles that uncover novel technical and methodological solutions in ncRNA discovery, RNA therapeutics development and delivery, as well as data from relevant animal model studies and clinical trials.
This special issue in Non-coding RNA Research is on behalf of the EU-CardioRNA COST (Cooperation in Science and Technology) Action: catalyzing transcriptomics research in cardiovascular disease.    Guest editors of this SI are EU-CardioRNA members. Members and non-members alike are encouraged to submit their work to our special issue.
Link to the journal SI page